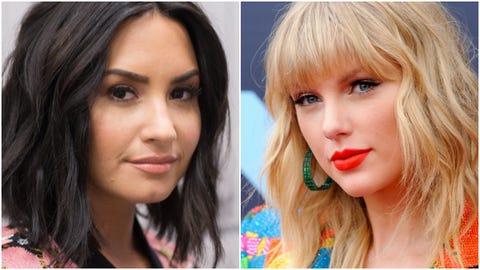 Demi Lovato hit Instagram and shut down her "feud" with Taylor Swift, saying "life is too short."
Fans have been pitting Taylor and Demi against each other in the wake of Demi working with Scooter Braun.
---
Demi Lovato is moving right the f*ck on from her alleged "feud" with Taylor Swift, which, let's be real: exists more in the fandoms' minds than in reality.
After
getting dragged by Swifties during the VMAs
for "shading" Taylor Swift (fact: she was not shading Taylor and had
a perfectly legit reason
for not attending), Demi hopped on Instagram and shut down their feud completely. "Life's too short for women not to support other women...especially when women release great music," she wrote, adding "great job @taylorswift."
Demi also made it clear that she's legit listening to Taylor's album, and called "Cruel Summer" a "jam."
Demi and Taylor's "feud" has been preoccupying their fandoms in recent months thanks to Demi working with Scooter Braun, Taylor's nemesis who she
accused
of "incessant, manipulative bullying" after he acquired her masters.
Demi
had previously taken Scooter's side
in a pretty public way,
writing
"I have dealt with bad people in this industry, and Scooter is not one of them. He's a good man. Personally, I'm grateful he came into my life when he did. Please stop 'dragging' people or bullying them. There's enough hate in this world as it is. Y'all can come after me all you want, but I'm always gonna stay loyal to my team. I value loyalty more than most people in this world, and if my name is gonna be brought into conversations, I'm gonna stand up for myself and the ones on my team."